Perth to Sydney August 2014
Perth to Sydney 4800km Aug – Oct 2014
Helen prepares for her epic bike ride across Australia
The soft, shorter option from Perth to Sydney would be 4000km but I wanted more scenery, more sea, more sunshine, more camping, more sore butt!!!! What ??
Yes, I wanted more. So I have selected the coastal scenic route that just adds an extra 1000km to the journey. That makes a total of 5000km. Anticipating the coastal regions of WA will be absolutely stunning – let's hope the road goes close to the coast!
 Once I leave Norseman and head across the Nullarbor, with those tails winds scuttling me along like a sail boat the views of the Great Australia Bight will be breathtaking and even more so if the southern right whales have arrived for their birthing season.
 See, there is reason to my madness – the opportunity to see the whales and their calves – Bunda Cliffs here I come. Whales – save the date I'll be there early October.
 Yesterday I discovered there is a ferry crossing Lucky Bay (near Cowell, Eyre Peninsula) to Wallaroo (Yorke Peninsula) which would give me a short cut of 350km – aaahhhh – let's just wait and see.
 But then again there's not many short cut options whilst cycling across the Nullarbor so the thought of a 'short cut ahead' is a little exciting. Or even really, really exciting!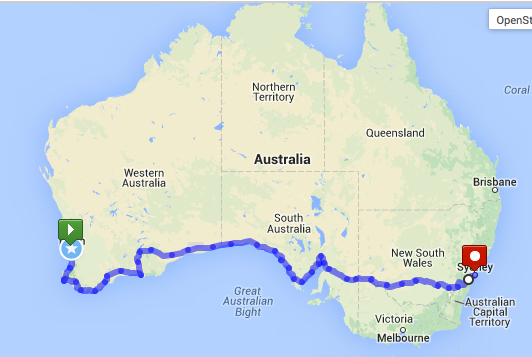 Traveling through Western Australia, South Australia, Victoria (yes, I think I have to dip down to Wangaratta to visit the folks!) and NSW will be an adventure. Friends suggested I pop into Canberra- maybe???
Spending 60 days on the bike will give me plenty of opportunity to enjoy the weather. Hoping for just the right amount of sunshine – to warm my heart and dry my clothes, tail winds, glorious sunsets to celebrate the end of each and every amazing day on the road and spectacular sunrises to do it all over again. Can't wait to meet fantastic people along the way. The 'grey nomads' will be out and about so I'll have company.
 I still need to work out the 'Sydney' part of the plan. Starting at the Indian Ocean and ending at the Pacific Ocean I want to touch the water at both sides of this amazing continent. Ideally will scoot around the Southern part of Sydney and reach the sea!!! Thinking of some cool way to celebrate each 1000km and each 100km across the Nullarbor.
 Mission accomplished!!!
 Hoping you can find a few spare moments to make a donation to the girls in Savannahket, Laos. The girls love going to school, something that we generally take for granted. Without the Lotus Educational Fund these girls would not have the opportunity to attend school in remote areas of Laos. The girls are at 6 different schools, each with no toilet, electricity or running water. Lotus funds provide each girl with a school uniform, textbooks, pencil, back pack, plastic shoes and pays the yearly school registration fees.
 http://www.gofundme.com/Laoslotusgirls
Pages
Subscribe to receive Lotus News