Lotus Women's Wellness Workshop February 2016
Lotus Women's Wellness Workshop February 2016
Written by Julia Alden
During the February break members and friends of the NIST community again showed their support to the Lotus project, as the first Women's Wellness Workshop was successfully implemented in collaboration with World Vision Asia. A women's doctor, a translator, a physical education teacher, several international teachers (myself included) and members of World Vision Asia came together to lead sessions for the girls. I got to use (along with colleague Margot) art to help explore notions of identity and to build self-confidence. For the first time the girls drew self -portraits, painting and using creative means of expression to explore and describe their character traits. The girls also engaged with volunteer Kate (a personal trainer) in organized sports and movement throughout the day.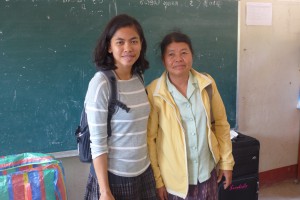 Khun Mee (translator) and Dr Phoudalay Lathvilavong (Honorary Director)
Savannakhet, where we were located, is right across the Mekong from Thailand. If offers easy access for entrance to a continual flow of young Laotians wanting to cross the border, lured by hopes of finding in Thailand a way to generate income which is usually partially given back to support families. Many of those migrating are adolescent girls and boys. World Vision Asia estimates that there are some 200,000 undocumented Laotian workers in Thailand (many others are documented), a large portion of these between the ages of 14 and 20.
In the context of this daunting bigger picture, the Lotus Wellness Workshop gave us all a tight focus on one of the ground-level building blocks of empowerment for young women in this region. The initiative was a true collaboration among volunteers and organizations. The workshop hosted twenty Laotian girls who travelled about two hours from their rural village to meet up with our team of volunteers. The girls attended our weeklong workshops about women's wellbeing, reproductive health, contraception, HIV/AIDS, and awareness and avoidance strategies against the dangers of human trafficking. The collaborative framework allowed the girls to develop a broad view of many aspects that could contribute to their wellbeing.
Through the use of text, on-line video and YouTube applications, it was also the first time that these girls learned a range of critical knowledge about their bodies. Our translator, Mee, was kept very busy! The girls were fascinated by this educational introduction to understanding their physical selves and the ways they could be responsible for their health. Our doctor, Denise, ingeniously designed a bracelet that the girls could make and wear, with multi-coloured beads to follow the pattern of the monthly menstruation cycle so they could tell when they were ovulating and were most likely to get pregnant. A project to produce washable and reusable sanitary pads was developed during the week, as lack of such simple hygiene products emerged during health discussions with the girls as a very real deterrent to their attending school.

Another outcome of our collaboration was a quick raising of funds via crowdfunding by Sara, a Sustainability Project Manager for Macquarie University in Australia, to complete the building of a toilet at school. Imagine what a difference this kind of practical initiative can make to a girl in a rural school. To confront the very real dangers that many young women face from the realms of trafficking for sex trade and other illicit or abusive work, local members of World Vision offered training in awareness and possible plans of action should they find themselves in danger. This part of the workshop focused on educating the girls about existing laws that protect their rights and giving them strategies to find help if and when they did migrate and encounter trouble.
The workshop was held at Thasano Station Rice Research Centre a research facility run and managed by Dr. Phoudalay Lathvilavong. When she is not advising farmers on new rice growing techniques, she devotes her time to improving social and economic conditions for the Lao people living in this rural area. A true model for these young women, she has been instrumentally involved in the Lotus Educational Fund since its inception in 2008, working with families and focusing, in particular, on keeping girls in school. As the week went forward, and as we worked, lived and learned together, we observed stronger, more confident girls emerging, becoming young women who were being empowered to realize they could make choices in their daily lives and in their futures. This awareness is an essential step in a culture where women have had so little negotiating power.

The girls sharing their learning back at school.
The girls' growing confidence was even more evident in the culmination of the week's activities. We all rode back to the village to attend a drama performance that they girls presented for their teachers and their parents, to share what they had learned during the Wellness Workshop. The learning process had clearly come full circle, with the girls now having this chance to come home and teach others about the important new concepts they had learned. I myself have come home feeling privileged to have participated in this project, proud of the girls and of their energy and resilience, and moved by a compelling sense that wellness, mind, body and spirit, was shared by all.